Established in 1971, KMF Group is a leading provider of precision sheet metal fabrication and precision engineering, to companies within a range of fast-growing industry sectors. KMF Group have been delivering innovative and comprehensive manufacturing solutions to customers for over 45 years.
From the complex assembly of fully integrated metal enclosures, to the production of high- value precision parts, businesses of all sizes rely on KMF for high-quality metal manufacture and process expertise.
KMF also invests heavily in their future workforce and in 2009 opened the KMF Training Centre, where they deliver their own apprenticeships and industry relevant training.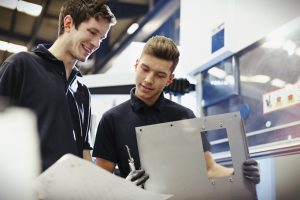 To encourage the next generation of their workforce, KMF launched the incredibly successful Young Engineer of the Year initiative in 2013. The annual event has been supported by TL Dallas since 2014 and hopes to inspire young people into STEM subjects.
Projects have included launching large balloons carrying science experiments into space, 3D Printing and Lego Robotics. This year KMF is engaging with 22 local schools and sponsor companies with the Greenpower Project, where students are tasked to design, build and race F24 Kit Cars.
To find out more about KMF Group and the Young Engineer of the Year initiative, visit www.kmf.co.uk.